How to Buy a Right Garage Door Opener
A garage door opener is an advanced technology that facilitates you with an illuminate and easy approach to your home with high security. These smart devices are more convenient and compatible. These devices are packed with one-touch access and home-automation connectivity features. If you want to get the most out of your garage door, you must have a professional install your garage door opener!
Types of Garage Door Openers:
Garage door openers which are available in the markets are:
Standard Garage Door Opener
A Chain-drive Garage Door Opener
A Belt-drive Garage Door Opener
A Screw-drive Garage Door Opener
Standard Garage Door opener:
It has a very common design. A motor is connected with the door which drives a trolley along with a rail. When trolley moves, the motor pulls the door to open and pushes to close. The significant difference between different types of garage door openers is how to motor carriages the trolley to open or close the door.
A chain-Drive Garage door Opener:
An opener is designed with the metal chain to operate the trolley. The metal chain uses to raise and lower the garage door. It is a very economical choice but causes to many problems such as high noise and vibration. In case, your garage is far away from the house, high noise may not be a big deal. But if your garage is attached to your living area then a quieter device is the best option for you.
A Belt-drive Garage Door Opener:
The features and functions of the belt-drive garage door openers are similar to the chain-drive garage door openers. It operates with a belt rather than a chain to carriage the trolley. It is designed for smoother and quieter operations. It is a perfect choice for garage connected with living areas and sleeping spaces. It needs little maintenance as it has few operating parts.
A Screw-Drive Garage Door Opener:
A screw-drive garage door opener is designed with a steel rod to move the door. When rod circulates, it moves the trolley attached to the track to raise and lower the garage door. These openers are smoother and quieter than others. One more benefit is, it has few parts that's mean it needs little maintenance.
A Direct- Drive Garage Door Opener:
It is an advance and quitter moving mechanism. Its motor is designed to operate the trolley itself. It moves along the track to raise and lower the garage door. These openers are designed with one moving part that's "Motor". Few parts tend to less maintenance. The single part results in low noise and vibration.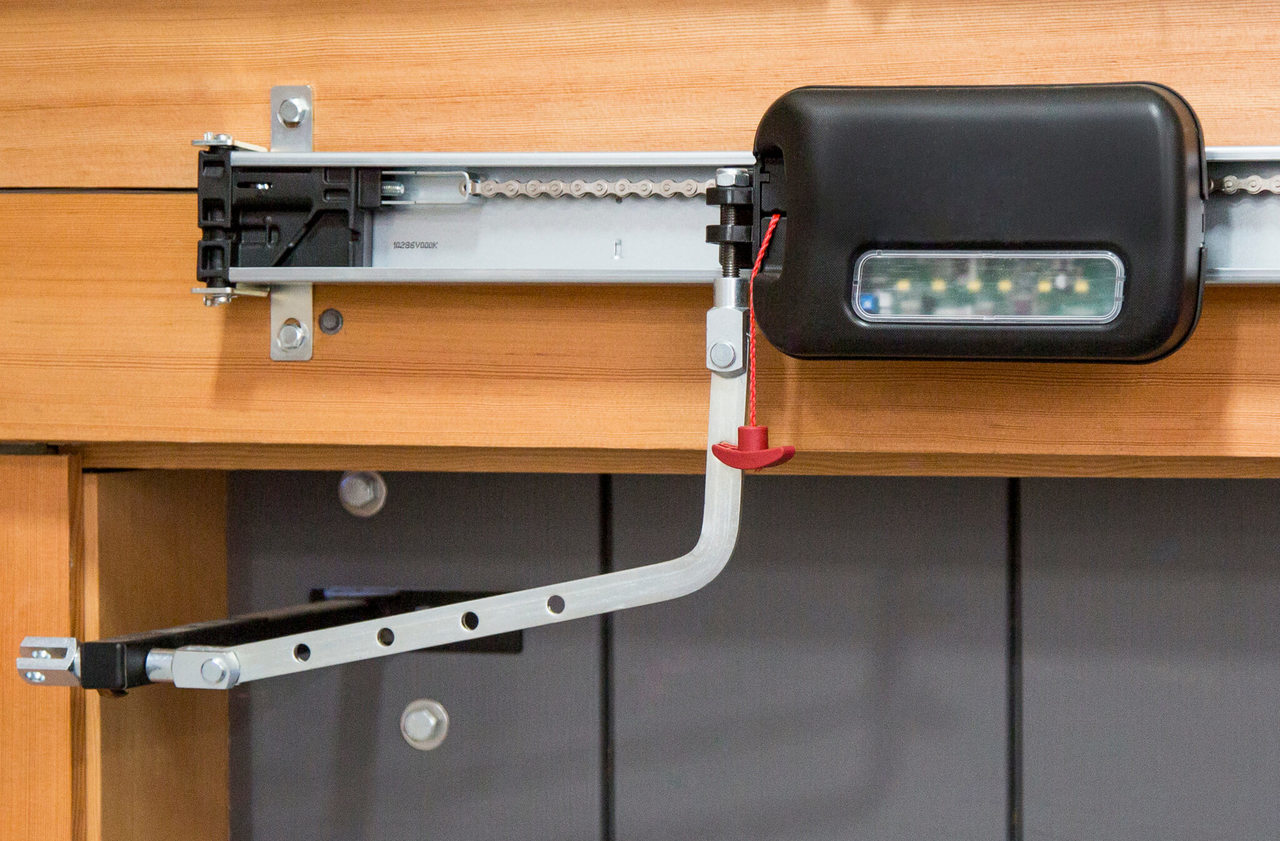 Garage Door Opener Features
Standard garage door openers come with common parts such as:
Remote: A keypad with well-mounted buttons to operate the door with one click.
A manual release options: it allows you to connect and disconnect the opener and to open and close the door manually.
A security light sensor: A light will be activated during operations and turn off automatically after a specific period of time.
Rails: Rails are designed and sized according to the garage door size up to 7 feet tall.
Other remarkable features are:
Mini remote with a keychain to be fit in a pocket/purse
Home-automatic connectivity system that facilitates you to control the opener remotely.
Pre-build Wi-Fi function to be connected directly to your home network. It allows you to operate a door with a mobile app without the help of any automation device.
Smart-device compatibility features: it is an optional gadget available on choice. It facilitates you to operate and check the device from a mobile app.
Vehicle compatibility: it allows you to operate the device from your vehicle.
Auto-close feature: this function helps to lower the garage door automatically after a specific period of time.
Lock gives you the right control on the opening/closing of the garage door.
Smooth Start/Stop function: it reduces the wear and tear of the opener and makes the operation quieter and smoother.
Efficient battery backup: it helps you to enjoy the device, even in the case of a power outage.
Rail extensions: it allows you to make your device more compatible like if you need an 8-foot high door.
Motion sensor: the security light sensor helps to operate the door automatically.
Safety and Security Precautions:
If you have a traditional garage door opener device (model before Jan/01/1993), It's time to upgrade your device to enjoy the benefits of advanced safety functions.
Advance garage door openers come with an electronic beam sensor that works across the operations to give necessary prevention and protection. For example, when any object (an animal, person, or any other thing) crosses the beam, it triggers the sensor, tends to operate the door in the reverse direction. These openers are also created with the mechanism that reverses a closing door. Follow the manual instructions provide by the manufactures to test the safety features of a modern garage door opener.
Modern garage door openers are prepared with advanced security features like, Remote access. It is applied with a unique code to operate the opener. These rolling code security features prevent your vehicle from theft and make sure that neighbor's remote won't operate your garage door opener. Each time, when you operate your garage door opener, a new and unique code will be automatically created. The opener will accept the new code every time, whenever you want to operate the door. I hope you have leaned more about the garage door opener. Happy reading!!!